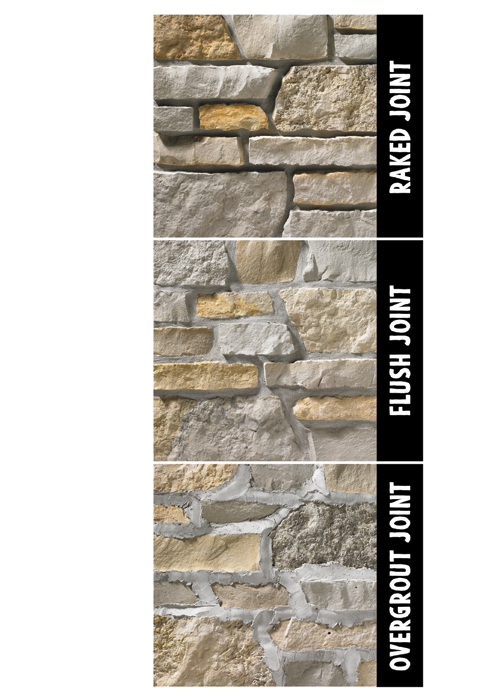 Grouting Techniques
Throughout our entire website and brochures our swatches focus on the beauty and color of the stone. We do this because grout, and sometimes the lack of it, has an amazing impact on the look of the final product.
There are three factors that are very important in stone masonry:

Selecting the right stone for the project
Selecting a good mason
Selecting an appropriate grout technique
There are three distinct stone grout techniques that masons can do:

Raked Joint
Also known as a standard joint, is achieved by laying each stone roughly
one finger width apart from each other, then grouting between each stone.
Once the mortar is semi-dry it is later "raked" with a variety of masonry
tools to ultimately achieve a consistent depth.

Flush Joint
A flush joint is when a trowel is held flat against the stone or brick and
moved along the surface, so as to cut away the excess mortar. The
resulting joint is flush with the stone.
Overgrout Joint
When you compare this in the photographs to the left you'll notice how
different the stone looks. The way the grout is applied tends to give the
stone a rustic and aged appearance. The joints are widening, dry, irregular
and overlaps the face of the stone.
Always have your mason make a mock-up of the grout technique you wish to use prior to beginning the actual installation so that you understand how the stone will look on a larger scale.