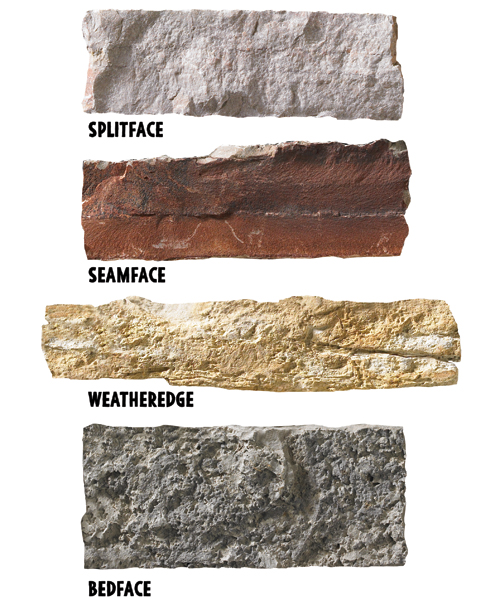 The Natural Faces of Stone
Halquist Stone's stone collection is designed to compliment a wide variety of architectural styles. Whether you're creating a sleek, modern stone accent wall in the bathroom to a more traditional fireplace in the living room, we have some of the most desired colors and textures to choose from.

In stone veneer, the stone is comprised of two natural faces. First, a natural split happens when the stone breaks where there isn't a natural seam. And second, weatheredge is when the stone has been eroded and deposited with natural minerals on the face. A combination of these can happen on one piece of stone. Below you will find a description of each type of stone that is found in our collections.
SPLITFACE
Stone that has been broken by a hydraulic splitter to a specific size

SEAMFACE
A vertical crack in the quarry that is exposed to the elements, often showing
coloration; this is the edge of the stone.

WEATHEREDGE
This is a natural alteration by either chemical or mechnical processes due to the action of atmospheric conditions, surface waters, soil and other groundwaters, along with temperature changes. This has more of a grooved or textured face.

BEDFACE
The natural top or bottom of a layered stone = a flagstone face. It's also
called natural cleft.